In Q2 of 2022, 25 songs charted in the Hot 100 Top 10 for the very first time, and nine songs carried over from Q1.
In order to gain a deeper understanding of last quarter's Top 10, we took a look at Q2 2022's 25 new arrivals and compared them to the nine songs that carried over from Q1 2022.
One area in which Q2's new arrivals differed greatly from carryover songs was in primary genre. For the second quarter in a row, hip hop accounted for the greatest percentage of new arrivals at 40% of songs, significantly outpacing pop at 24%. This was largely thanks to both Kendrick Lamar and Future's releases this quarter, each with four songs breaking into the Top 10. Latin rounded out the top 3 at 16% thanks to a slew of hits from Bad Bunny, namely Moscow Mule, Titi Me Pregunto, Despues de La Playa, and Me Porto Bonito. Finally, R&B/soul and country filled out the remainder, with 12% and 8% of new arrivals, respectively.

Another notable difference between Q2's new songs and carryovers can be found in lead vocal delivery. New arrivals predominantly featured a combination of sung and rapped vocals, represented by 64% of songs, while exclusively sung vocals held the remaining 36%. This was largely due to the influx of hip hop songs this quarter, all of which featured a combination of sung and rapped vocals.

One more area that saw a marked difference between carryovers and new arrivals was lyrical themes. The lifestyle theme took the lead among new arrivals due in large part to the increased prominence of hip hop, with four Future songs and four Kendrick Lamar songs possessing a lifestyle lyrical theme. However, the lifestyle theme was not limited to songs within the hip hop primary genre. Bad Bunny's Me Porto Bonito and Titi Me Pregunto as well as Morgan Wallen's You Proof and Don't Think Jesus also featured the theme. And, of those four songs, three possess a hip hop influence as well.

Looking at a few other areas of note, we found that Q2's new arrivals were on average 10 BPM slower, with average tempos of carryovers and new arrivals at 107 BPM and 97 BPM, respectively. This quarter's new arrivals were also longer on average, with carryovers clocking in on average at an even three minutes while the new arrivals averaged 3:25. This was largely due to the five new arrivals that landed over the four-minute mark: I'm Dat N***a, Matilda, Moscow Mule, Running Up That Hill (A Deal With God), and United In Grief.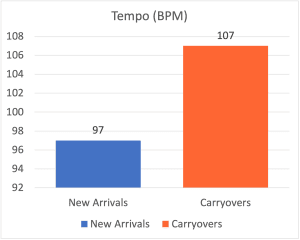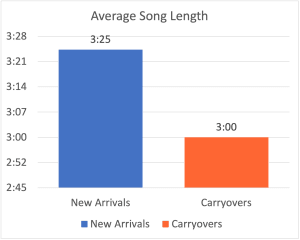 Now, one thing to note is that more than half of last quarter's new arrivals (15 out of 25) charted for just one week in the Top 10 and most of them (22 out of 25) charted for less than 10 weeks.
On the flip side, the majority of songs that carried over from Q1 (7 out of 9) have been charting for over 10 weeks in the Hot 100 Top 10 and all hanging around for eight weeks or more.
Below are two Spotify playlists (Q2 new arrivals and Q1 carryovers) with the songs referenced in this article:
BACK TO HSD WIRE