In this excerpt from our Butter Deconstructed song report, we take a look at the song's lyrics and rhymes.
Butter is a lighthearted song with love/relationships and boasting themes that focuses on BTS and their rise to fame. Throughout the song, the group's members brag about their own charisma, fame and good looks, culminating in a call to action for their fans to dance and live it up with them.
Lyrics
Lyrically, the song is highly simple, composed mainly of easy-to-grasp metaphors, lyrical clichés and basic vocabulary. The overall narrative flow is simple as well, with a very consistent message and little plot development throughout, which allows the listener to simply listen and dance without having to put too much thought into the song's meaning. As per BTS member Jimin, this style of writing was an intentional choice, stating "… we tried to prepare a song that's easy listening, instead of [something with] a really heavy or profound message."
However, despite the simplicity, that doesn't mean that Butter is anything short of an expertly penned song. In addition to its fun and easily understood lyrics, the writers included some cleverness as well to make the song more interesting and multi-dimensional. This includes references to classic hits by Michael Jackson, Usher and others; unique metaphors; shifts between pop and hip hop-styled lyricism that match the song's combination of sung and rapped vocals; and engaging call and response between the lead and shouted background vocals.
Butter's Narrative Flow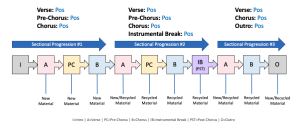 Rhymes
Tying together Butter's catchy melody and simple, uplifting lyrics is its expert rhyme scheme, which uses a combination of end-of-line and internal rhymes, alliteration, repetitive lyrics and cohesive syllable structures to make the song more cohesive and memorable.
Want to learn more?
Subscribers can view the full report including the full lyrics and rhymes segment, plus deep dives into the song's instrumental arrangement, melody, vocal production, hooks, structure, energy flow and more here.
Not a subscriber? Click here to learn more about the Hit Songs Deconstructed platform and sign up for access to all of our past and present reports, plus a whole lot more!  Or, click here to purchase past reports individually (note that Butter Deconstructed will be available for individual purchase on 10/28/21).
BACK TO HSD WIRE