The old adage of "all mainstream songs sound the same" couldn't be farther from the truth.
While most hits do use popular instruments such as drums and percussion, synths and synth bass to create mainstream familiarity, many also use atypical instrumentation and timbres or common instrumentation used in atypical ways to simultaneously stand out from the pack and create a unique vibe.
Instrumentation Used in Hot 100 Top 10 Hits: 2017 – YTD 2021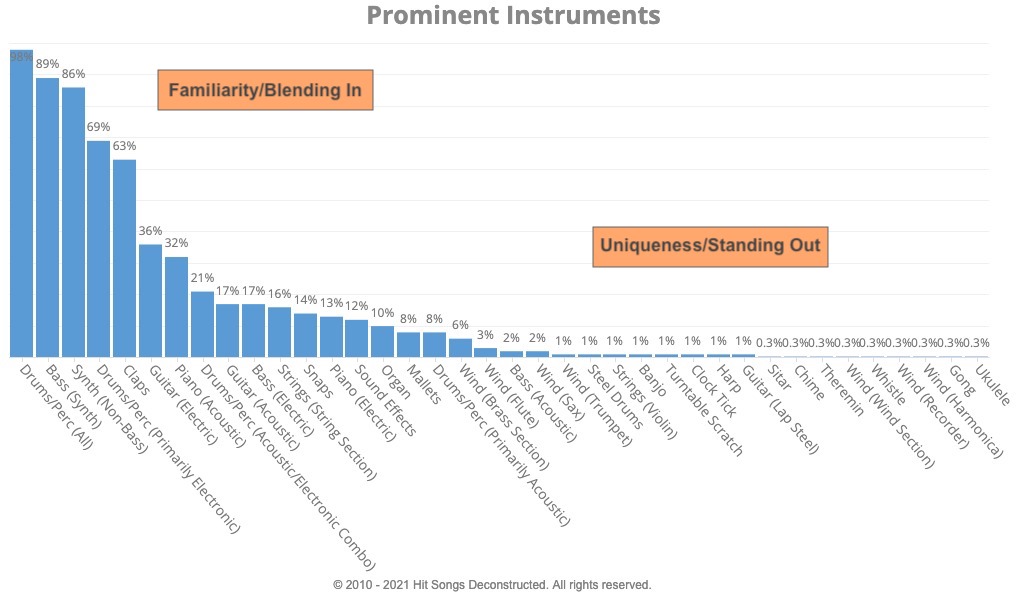 A perfect case-in-point is Ed Sheeran's latest hit, Shivers, which uniquely uses pizzicato (plucked) strings as its main foundational hook throughout each section of the song save for the bridge, which breaks down to just claps, bass and acoustic guitar.
While strings in general have been quite uncommon in the Hot 100 Top 10 (used in only 16% of songs over the past five years), the use of prominent pizzicato strings has been even less common, especially to the extent they are used in Shivers. Furthermore, the use of strings is also atypical in Sheeran's Hot 100 Top 10 body of work in particular. Only two of his other hits have featured strings – 2015's Photograph and 2017's Castle On The Hill – neither of which use them in the same capacity Shivers.
In Shivers, the writers strategically introduce the pizzicato strings in the intro, helping the song to stand out from the pack and grab the listener's attention right out of the gate.  Furthermore,  the use of strings also works well with the song's love/relationships-themed lyrics to create perfect prosody and heighten the listener's emotional connection with the song. And it's the combination of the two that makes the pizzicato strings so effective…
Subscribers can learn more about how other recent hits have incorporated unique instrumentation into their songs in the full article.
Not a subscriber? Click here to learn more about the Hit Songs Deconstructed platform and sign up for access to all exclusive content!
BACK TO HSD WIRE