With the third quarter of the year recently coming to a close, we're taking a look at some of the compositional trends that have shown notable rises and declines in popularity so far 2021.
Primary Genres
After hitting its lowest point since early 2019 in Q1 2021, hip hop has been back on the rise from 29% in Q1 up to 39% in Q3.  However, note that this Q3 rise was almost entirely due to Drake's slew of Top 10 hits from his album Certified Lover Boy, which made up eight of the quarter's 11 hip hop hits (note that all but three of these eight remained in the Top 10 for only one week). When removing Drake's five one-week hip hop hits from the equation, Q3 had only six hip hop songs compared to Q2's nine and Q1's seven.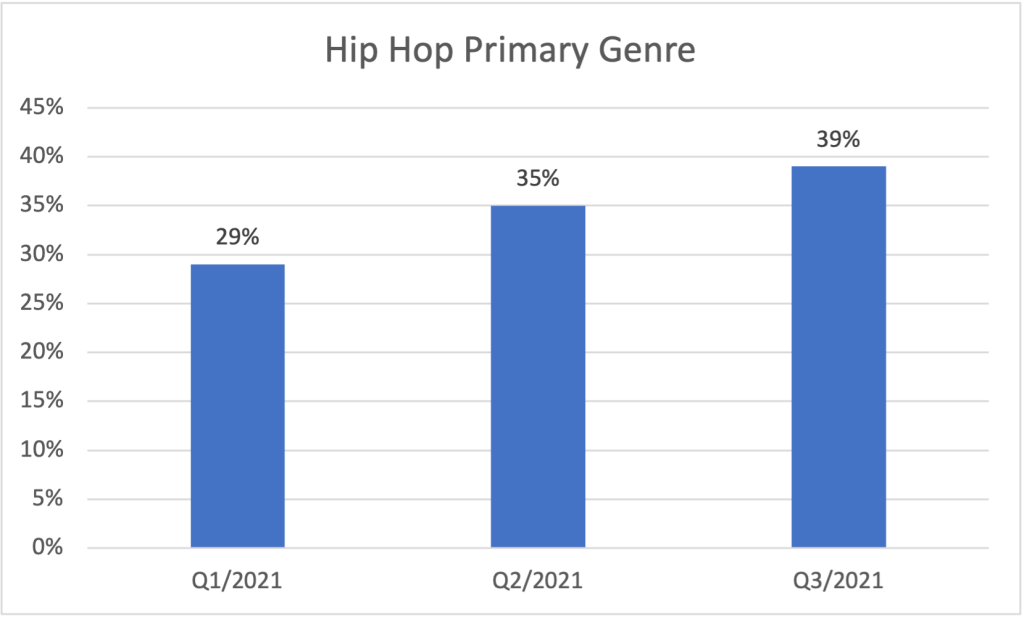 Sub-Genres & Influences
After all hitting lows in Q4 2020 and Q1 2021, the electropop/synthpop, disco and dance/club influences have been on the rise, all nearly doubling or tripling in prominence since the start of the year.  Notable mentions from last quarter include Bad Habits, Levitating, Stay, Butter, Take My Breath and Kiss Me More.
Conversely, trap as an influence has been in decline, falling from 58% in Q1 to 43% two quarters later.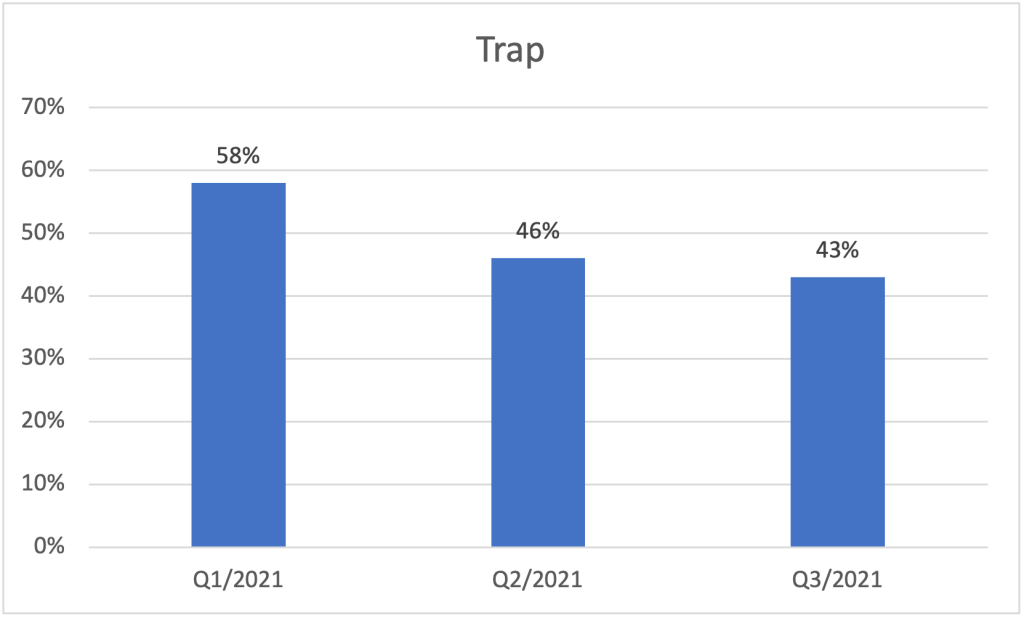 Prominent Instruments
Looking at the instruments used so far this year, electric bass and, even more notably, electric guitar have both been on the rise. In fact, both instruments were at their highest levels of popularity in Q3 since way back in Q1 2015.  Notable mentions from Q3 include Stay, Permission to Dance, Good 4 U and Leave The Door Open.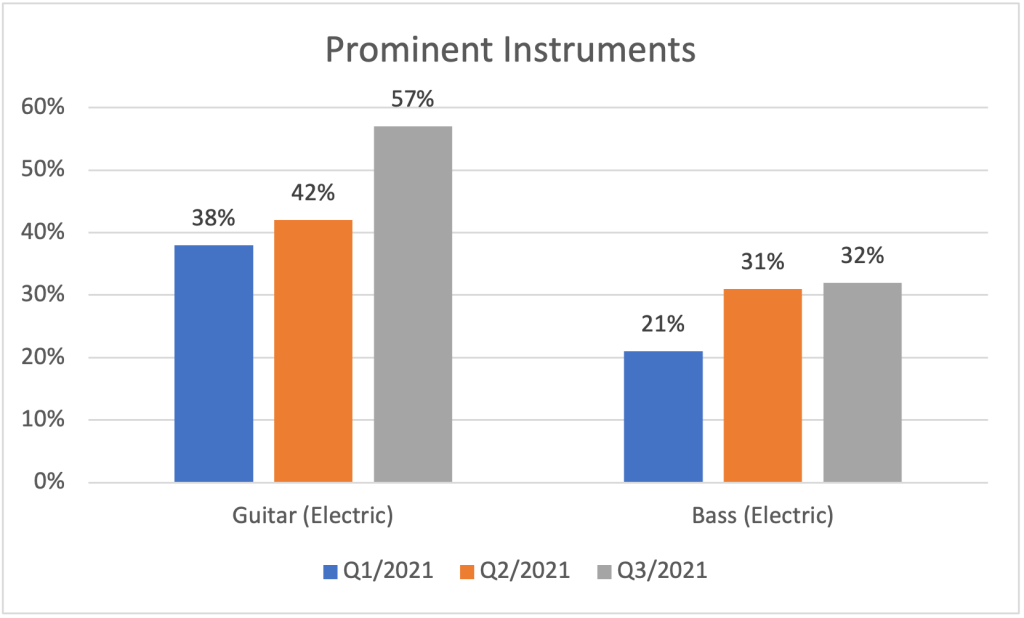 As for the instruments in decline, claps, acoustic piano, acoustic guitar and snaps have all fallen over the course of the year.  Claps and snaps in particular reached their lowest levels in Q3 since way back in Q1 2016 and Q2 2015, respectively.

Lyrical Themes
In regard to lyrics, the lifestyle theme has been on the rise while love/relationships-themed songs have been in decline.  These themes tend to have direct relationships with the popularity of hip hop and pop as primary genres, respectively.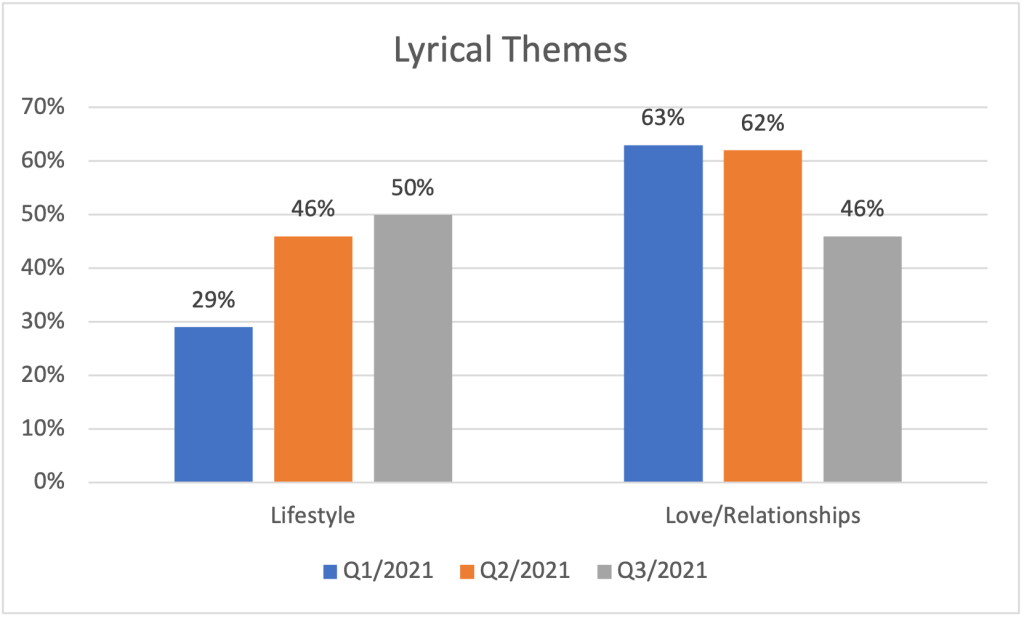 Hook-Based Intros
Hook-based intros, which are intros that contain a notable vocal or instrumental hook, have also been in decline.  By Q3, this intro type was cut down to just below two-thirds of its Q1 popularity.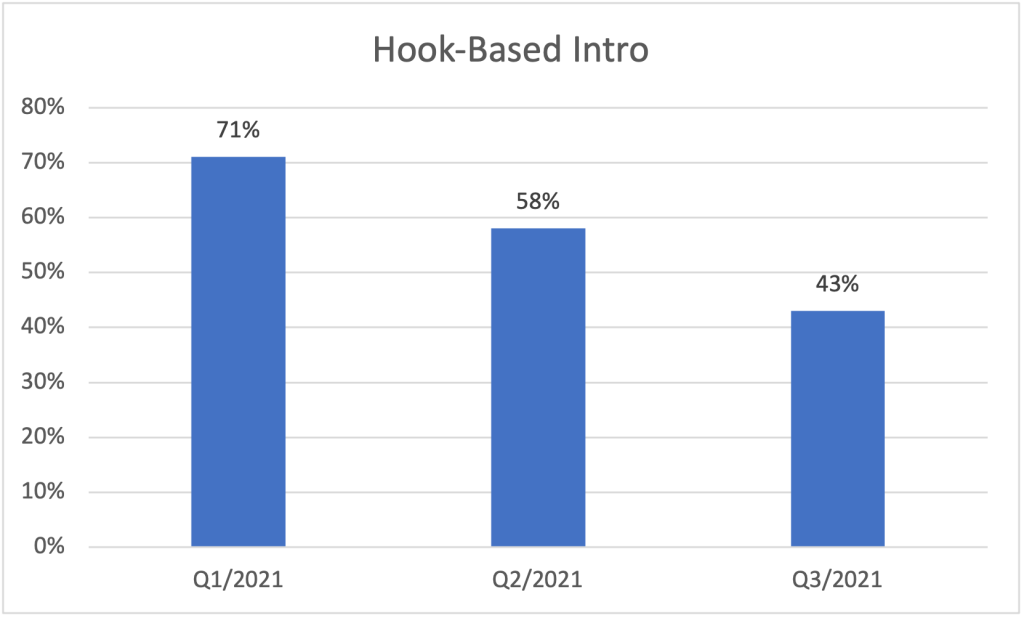 Below is a Spotify playlist with Q1-Q3 2021's Hot 100 Top 10 hits:
BACK TO HSD WIRE