Doja Cat and SZA's duet, Kiss Me More, reaches a new peak in the Hot 100 Top 10.
With Kiss Me More reaching a new peak on the Billboard Hot 100 (week of 6/26/21) and this week's release of Doja Cat's Planet Her, we decided to take a closer look at all-female duets.
All-female duets have been few and far between at the top of the Hot 100 chart. Over the past year, there have only been four all-female duets charting in the Top 10, compared to 27 all-male duets.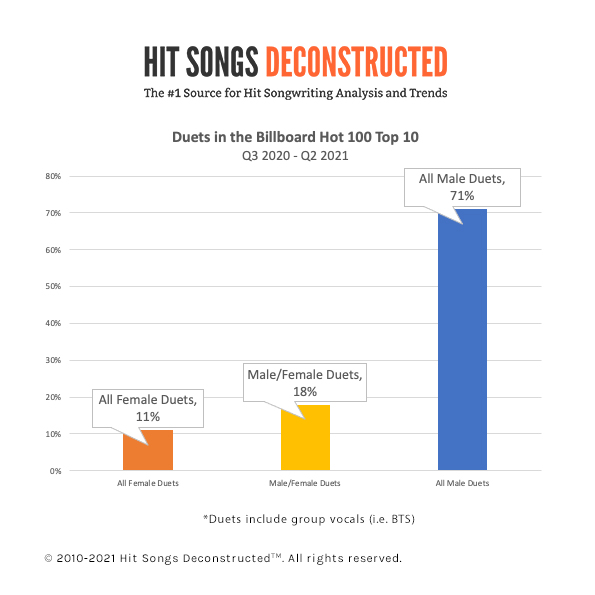 All-female duets from the past year include: Kiss Me More, WAP, Savage and Say So. What do these song have in common?
All four contain a prominent

hooking up lyrical theme

All four contain rapped vocals
All four have charted in the Top 10 for at least 10 weeks
And more!
Hit Songs Deconstructed subscribers can view additional notable stats for female duets over the past year by clicking here.
Not a subscriber? Click here.
Hot 100 Top 10 Female Duets (Q3 2020 – Q2 2021) Spotify Playlist
*Note that this data accounts for the original version of Ariana Grande's 34+35 and does not include the remix version featuring Doja Cat and Megan Thee Stallion, which charted for only one week of the song's 10-week total in the Top 10.
BACK TO HSD WIRE