In 2019, 58 songs landed in the Top 10 of the Billboard Hot 100 chart. Of them, only 15 occupied the coveted number one spot. These select few were performed by a combination of Top 10 veterans and newcomers, the latter of which was comprised of Billie Eilish, Bradley Cooper, Lewis Capaldi, Lil Nas X and Lizzo.
2019's number one hits were an eclectic bunch. The pack was led by Lil Nas X's megahit Old Town Road, which features an infectious blend of Country and Hip Hop influences, meme-ready lyrics and a superstar featured artist that helped the song gallop to the top spot, where it remained for a record-setting 19 weeks.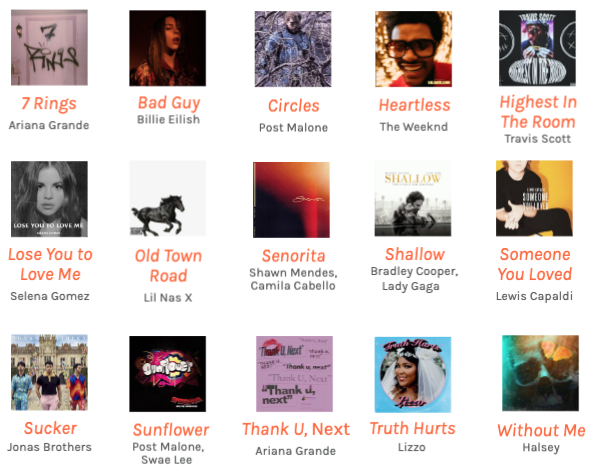 Like Old Town Road, the rest of 2019's number ones also possess a blend of unique and standout qualities that separated them from their mainstream contemporaries. Some of the most notable are:
7 Rings, which stands out through its interpolation of The Sound of Music's My Favorite Things
Bad Guy, whose home-grown production and highly atypical structuring of sub-genres broke conventional standards of what a #1 hit could sound like
Senorita, which is in and of itself a masterclass on how to recycle the same hook in both familiar and fresh ways throughout a song
Someone You Loved and Lose You To Love Me, which were the only essentially drumless ballads to rise to the top in the past five years along with Ed Sheeran and Beyonce's Perfect
Sucker, which stands out through its super-infectious whistle hook and funky drum break
Truth Hurts, which proved that persistence and a unique personality can send a song to the top of the charts years after its initial release
However, as much as the class of 2019's number one hits differed from one another, there were certain commonalities that they shared that made them sound familiar to audiences and more easily connect.
The vast majority featured a love/relationship lyrical theme, which surpassed the lifestyle theme for the first time since 2016. This shift was mainly due to Pop surpassing Hip Hop as the most popular primary genre, accounting for nearly three-quarters of the year's number ones. However, though Hip Hop as a primary genre took a downturn in 2019, it flourished as a sub-genre influence, playing a role in the majority of songs across varied primary genres. Also jibing with the diminished popularity of Hip Hop was vocal delivery style, with exclusively sung songs more than doubling in 2019 and surpassing sung/rapped combo songs for the first time since 2016.
Songs performed by a single artist were also back on top, rising to their highest level of popularity in well over five years. And while songs with exclusively male lead vocalists continued to be most popular, female leads gained significant ground in 2019, skyrocketing from 8% of number one hits in 2018 to 40% in 2019, their highest level since way back in 2014.
Structurally, major and minor keys were neck and neck in 2019; average tempo jumped by 15 BPM to 94 BPM, which is the fastest it's been since 2015; and later (yes, later) first chorus occurrence ranges (0:40-0:59 and 1:00+) increased in prominence, while earlier ranges (0:01-0:19 and 0:20-0:39) dropped. And, for the fourth straight year, there weren't any number one hits that kicked off with the chorus.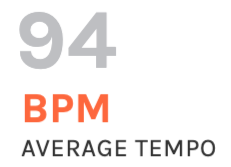 Most notable of all, songs got significantly shorter in 2019, which was welcome news for shrinking audience attention spans. The average song length of number one hits dropped to just 3:05 in 2019, due in part to the skyrocketing of songs landing under three minutes in length.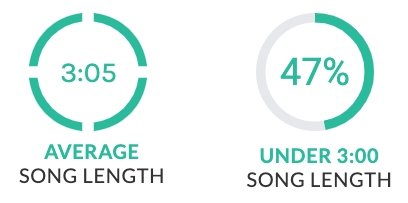 Stay tuned for The State of the Hot 100 Top 10: 2019 in Review being released later this week! Reserve your copy today and save 30%!  Use discount code SAVE30.
BACK TO HSD WIRE