In honor of International Women's Day, we took a look at how the number of female songwriters, artists and producers credited on Billboard Hot 100 Top 10 hits have changed since 2015.
Artists
With the exception of 2016, less than 20% of the artists who charted in the Hot 100 Top 10 are female.
While 19% of Hot 100 Top 10 artists in 2020 are female, of the 75 songs that charted in the Hot 100 Top 10 in 2020, a slightly higher 23% have a female primary or featured artist.
SPOTIFY PLAYLIST WITH SONGS FEATURING A FEMALE PRIMARY OR FEATURED ARTIST
Songwriters:
Since 2015, no more than 16% of songwriters who charted in the Hot 100 Top 10 are female.
However, while only 16% of songwriters in 2020 are female, of the 75 songs that charted in the Hot 100 Top 10 in 2020, 32  have a credited female songwriter.
SPOTIFY PLAYLIST OF THE 32 SONGS WITH A CREDITED FEMALE SONGWRITER
Producers:
Between artists, songwriters and producers, the gender gap among producers is the most pronounced, with women accounting for just 5% or less of Top 10 hit producers every year since 2015. In 2020 there were only two songs with a credited female producer, Tones and I (Dance Monkey) and Dounia Aznou (Go Crazy).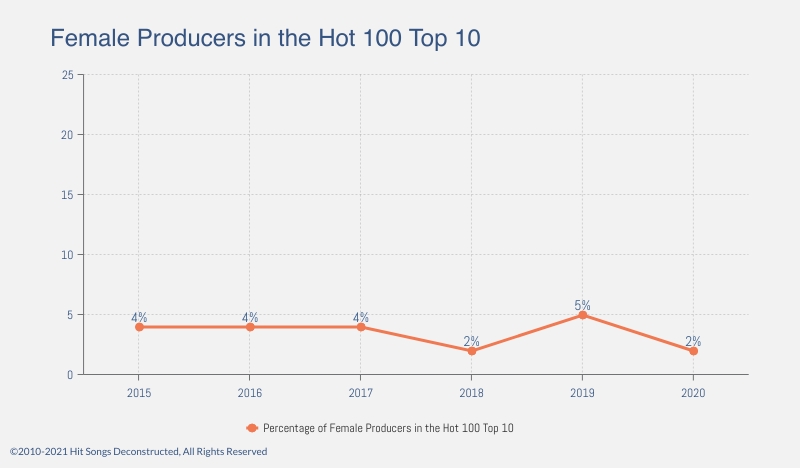 While the music industry remains a male-dominated arena, there are a number of organizations working to change that and support the inclusivity of women in music. 
We've listed a few below:
The inspiration behind #BookMoreWomen is the pervasive gender imbalance that currently plagues music festivals. The goal is to provide a visual representation of the problem, start conversations, and work towards better representation on future lineups.
Building Beats provides support for those who want to pursue their passion and build a career out of it. BB empowers individuals to become self-sufficient, creative producers that will give back to their communities while living fulfilling lives.
Founded by three successful music executives, Leslie Fram, Tracy Gershon and Beverly Keel, Change the Conversation fights gender inequality in the music industry by providing support, education and a community of like-minded female artists and executives all working towards the same goal of equality.
Gender Amplified is a nonprofit organization that aims to celebrate Women in music production, raise their visibility and develop a pipeline for girls and young women to get involved behind the scenes as music producers. The movement also connects passion for music with technical skills that can be used in a wide range of scientific and arts-based fields, areas in which women are traditionally underrepresented.
Girl Gang Music's mission is to promote female, LGBTQIA+, and nonbinary individuals' inclusion — in all aspects of the music industry — and to celebrate women who are already thriving in music, the work they're doing, to foster collaboration and, ultimately, to develop a pipeline for girls and young women to confidently get involved in music through mentorship and community.
Powered by Industry News Magazine, Girls Who Listen is a non-profit organization dedicated to supporting women and creatives in the entertainment space.
The SheSaid.So community consists of women and gender minorities from all sectors of the music industry: from record labels, artist management companies, and booking agencies, through to technology platforms, creative agencies, composers, artists and more. With headquarters in London and LA, shesaid.so has 18 global chapters around the world.
She Is The Music is a nonprofit organization that works to increase the number of women in the music industry from songwriters and producers to industry professionals and executives.
 US-based international organization, with chapters worldwide. SoundGirls mission is to empower the next generation of women in audio. They work to expand opportunities for women in these fields and to share resources and knowledge through cooperation, collaboration, and diversity.
Founded by New York-based Abhita Austin, The Creator's Suite is an organization that supports a global community of women DJs, producers, and audio engineers by providing them with access to education, increased visibility, as well as career opportunities.
The International Alliance for Women in Music  is an international membership organization of women and men dedicated to fostering and encouraging the activities of women in music, particularly in the areas of musical activity such as composing, performing, and research in which gender discrimination is a historic and ongoing concern.
Women's Audio Mission Women's Audio Mission is a San Francisco/Oakland-based nonprofit organization that uses music and media and an incredible "carrot" of a training environment – the only professional recording studio in the world built and run by women/GNC individuals – to attract over 2,000 underserved women/girls/GNC individuals every year to STEM and creative technology studies that inspire them to amplify their voices and become the innovators of tomorrow. WAM's award-winning curriculum weaves art and music with science, technology and computer programming and works to close the critical gender gap in creative technology careers.
Women in Music is a non-profit organization with the mission of advancing the awareness, equality, diversity, heritage, opportunities, and cultural aspects of women in the musical arts through education, support, empowerment, and recognition.
Women Produce Music International is an artist & producer-led non-profit org & network promoting & supporting the activities of music-makers, producers & engineers through a series of initiatives.
#WomxnCrushMusic is a 100% volunteer-run, fiscally sponsored project of Independent Arts & Media, a 501(c)(3) non-profit arts organization, who is dedicated to creating opportunities through community for inspiring rising womxn songwriters.
BACK TO HSD WIRE