While today's music scene is full of modern, innovative sounds and styles, many artists continue to be inspired by the music of decades past.
Over the last several years, roughly one-quarter to one-third of non-hip hop Hot 100 Top 10 hits have incorporated retro elements into their sound, with the 1970s and 80s being the main decades of choice. However, so far this year, the trend has reached a level of popularity not seen since way back in 2015; YTD 2021, almost half of non-hip hop hits have had a retro influence.
Retro Influence on Non-Hip Hop Hot 100 Top 10 Hits (2015-YTD 2021)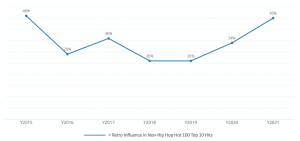 And with this week's arrival of The Weeknd's not-so-subtly 80s-influenced hit Take My Breath at #6, the current Top 10 reached a new level of retro with the majority of songs (60%) pulling from another decade:
Stay: 1980s
Bad Habits: 1980s
Kiss Me More: 1970s
Levitating: 1970s/1990s
Take My Breath: 1980s
Butter: 1980s/1990s
In fact, The Weeknd has been one of the biggest torchbearers of retro in the Top 10 in recent years, with six of his 13 Top 10s being influenced by another era. His first retro-tinged Top 10 was Earned It back in 2015, a year when retro was at a peak with almost half of non-hip hop hits.  With its vintage R&B strings and waltzing drums, Earned It is the singer's sole retro hit that pulls from the 1960s as opposed to the 1980s.  However, that all changed later that year with the arrival of Can't Feel My Face, which put The Weeknd's 80s leanings in full swing with its funky bass hook, 80s-era drums, disco-styled groove and guitar, and The Weeknd's signature Michael Jackson-esque falsetto and adlibs.
Two years later, I Feel It Coming continued the singer's early 1980s trend both vocally and instrumentally, once again pulling from the Michael Jackson playbook along with ample use of vocoder (which was also used in his 2016 hit Starboy, albeit to a much lesser degree and with no other 80s-styled elements).
Over the next two years, retro influences in Top 10 hits hit a low as hip hop became the dominant genre in the Top 10, giving The Weeknd an opportunity to strategically integrate hip hop into his music.  In his next three Top 10s, he toned down the retro vibe to essentially nil and, in both Pray For Me and Heartless, included hip hop elements such as trap beats, hip hop-styled vocals and a collaboration with rapper Kendrick Lamar.
But with the arrival of Blinding Lights in the Top 10 in February of 2020, it was clear the singer had returned to full-tilt 1980s.  The mass success of this song sparked yet another rise in retro's popularity as 2020 progressed.  He then continued to be at the forefront of the trend with his next two hits, Save Your Tears and most recently Take My Breath. And while all three of these songs are in-line with much of The Weeknd's previous 80s-influenced body of work, they also mark a new era with a more new wave and synthpop direction, most notably in their drums and overtly 80s-styled synths.  At the helm of this new direction is Max Martin, who also co-wrote and co-produced the Weeknd's 80s-tinged game-changer, Can't Feel My Face.
The Weeknd's Retro Hits (2015 – YTD 2021)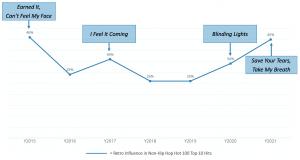 But one important thing to note about The Weeknd's retro hits is that while they include retro elements – which also broaden the songs' reach potential to older audiences who appreciate the 80s nostalgia – they are all balanced by modern qualities like contemporary lyrics, the use of slang, and modern production techniques. This prevents any single song from being too much of a retro throwback and keeps his body of work palatable to his youthful, mainstream demographic. This balancing act between retro trend capitalization and modern sensibilities is something a host of other artists have also achieved, most notably Bruno Mars (Uptown Funk, Please Me), Harry Styles (Watermelon Sugar, Adore You), Justin Bieber (Stay, Anyone), Dua Lipa (Levitating, Don't Start Now) and BTS (Butter, Permission To Dance).
All in all, The Weeknd has been a masterful trailblazer at the forefront of every major rise in retro's popularity.  As his career continues to unfold, it has become clear that his taste for the past is a staple in his music, providing a signature sound through his body of work that makes him a highly identifiable artist in today's scene.
BACK TO HSD WIRE