Spring change in the air? The second quarter of 2015 saw a host of important shifts in hit songwriting trends.  Songs were shorter, choruses hit earlier, more writers were involved in the crafting process, and solo female vocals plummeted, just to name a few of many.
Our latest Hit Songs Deconstructed Trend Report takes a look at the compositional characteristics that defined the 19 songs that landed in the Billboard Hot 100 Top 10 from April to June, and how these characteristics differed from – or stayed the same as – what came before.
What follows are some of the highlights taken from our Q2 Trend Report. For a full rundown and analysis, be sure to read the full report by clicking here.
[Header 1 header="The Top 10 Charting Hits Of Q2-2015″]
Bad Blood: Taylor Swift, featuring Kendrick Lamar
Cheerleader: OMI
Earned It: The Weeknd
FourFiveSeconds: Rihanna, Kanye West, Paul McCartney
G.D.F.R.: Flo Rida, featuring Sage The Gemini & Lookas
Hey Mama: David Guetta, featuring Nicki Minaj, Bebe Rexha, & Afrojack
Honey I'm Good: Andy Grammer
Love Me Like You Do: Ellie Goulding
Nasty Freestyle: T-Wayne
See You Again: Wiz Khalifa, featuring Charlie Puth
Shut Up And Dance: Walk The Moon
Somebody: Natalie La Rose, featuring Jeremih
Style: Taylor Swift
Sugar: Maroon 5
Thinking Out Loud: Ed Sheeran
Time Of Our Lives: Pitbull & Ne-Yo
Trap Queen: Fetty Wap
Uptown Funk: Mark Ronson, featuring Bruno Mars
Want To Want Me: Jason Derulo
Below are a few of the categories that INCREASED in prominence in Q2:
[Header 1 header="Five+ Person Songwriting Teams"]
From Hey Mama to Uptown Funk to Love Me Like You Do, many of the hits in Q2 were written by teams consisting of five or more songwriters. Jumping up from 35% to 58% of songs, this team size was the most popular for the second quarter in a row.
[Header 1 header="Hip Hop/Rap (Sub-Genre)"]
Hip Hop/Rap's on the rise. As a sub-genre, its influence increased from just 25% of songs in Q1 up to 42% in Q2. This coincided with a huge jump in Hip Hop/Rap as a primary genre, where it soared from a scant 5% all the way up to 21%, largely on the strength of newly charting hits like Flo Rida's G.D.F.R. and T-Wayne's Nasty Freestyle. Trap Queen's carryover from Q1 didn't hurt either.
[Header 1 header="Prominent Bass In The Mix"]
It apparently is all about that Bass. At least in Q2. Songs with a prominent low end jumped from 40% up to 63%, and of bass types, the synth bass was most popular, propelling Hip Hop/Rap, Dance/Electronic, and Pop hits up the charts.
[Header 1 header="The 3:00 – 3:29 Song Length Category"]
Song lengths are shrinking. Hits in the Top 10 are at the shortest they've been in a couple of years, on average. And the most popular length is between three and three-and-a-half minutes, which represented 42% of songs in Q2 2015 (up from just 15% in the previous quarter).
[Header 1 header="First Section Being A Chorus (Before Or After An Intro)"]
Immediately hooking the listener with the song's primary "payoff" (i.e. the chorus) is gaining in popularity. Increasing from 25% of songs all the way up to 42%, leading with the chorus was represented by chart-toppers like Bad Blood and See You Again, among others.
Below are a few of the categories that DECREASED in prominence in Q2:
[Header 1 header="Three-Person Songwriting Teams"]
Songwriting teams of three were nonexistent in Q2, dropping from 25% of songs down to 0%. Two-person teams were down, also.
[Header 1 header="Solo Female Lead Vocals"]
The lone lady at the mic was much less prominent in Q2. Solo Female leads fell from almost a third of hits (30%) down to just 11%. Solo Male lead vox led the pack at 53%.
[Header 1 header="Use Of Guitar In The Mix"]
Guitar-based hits tumbled down the charts, from 70% of songs in Q1 to a mere 42% in Q2. Despite this precipitous drop, the six-string was still the third most popular instrument behind the synth and the bass.
[Header 1 header="The A-B-A-B-C-B Form"]
Historically the most popular form in popular music, the verse-chorus-verse-chorus-bridge-chorus or A-B-A-B-C-B form decreased from 60% of songs down to an almost two-year low of 26%. It was represented solely by the Pop, and R&B/Soul genres, including hits like Sugar and Want To Want Me.
[Header 1 header="The 3:30 – 3:59 Song Length Category"]
After two consecutive quarters at the top, the 3:30-3:59 song length category plummeted in Q2. Represented by hits like See You Again, it decreased from more than half (55%) of Top 10 hits down to barely more than a quarter (26%), its lowest level in more than two years. Its big brother, the 4 minute-plus category, also lost prominence, coming in at 21%.
Below are a few noteworthy graphs illustrating how Hot 100 Top 10 charting song characteristics have performed over the course of a year. Reference the full report for details:
[Header 1 header="First Chorus Occurrence"]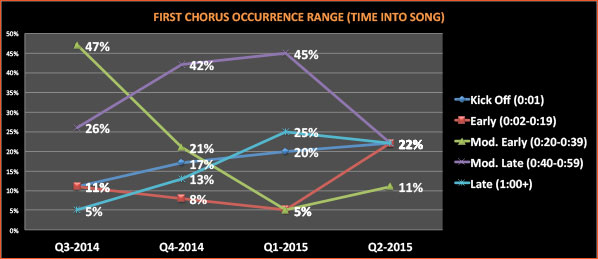 [Header 1 header="Lead Vocal"]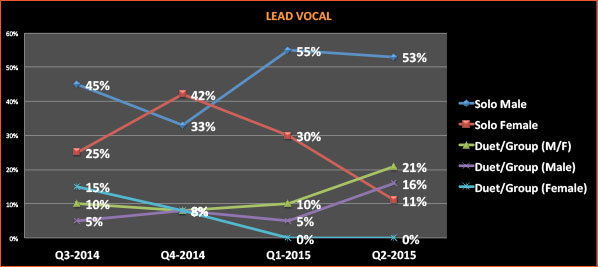 [Header 1 header="Songwriting Teams"]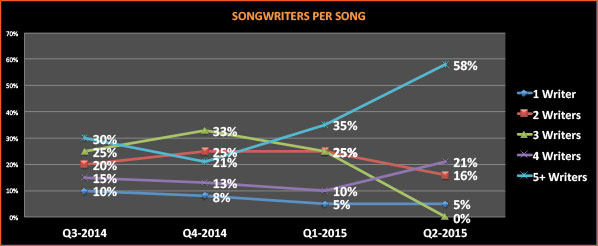 BACK TO HSD WIRE