During the second quarter of 2014, 23 songs charted within the top 10 of Billboard's Hot 100.  13 were "new top 10 arrivals," while the others were carryovers from Q1.
Amongst the many hit songwriting trend shifts that took place during the quarter, two of the most apparent were in regard to primary genres and prominently featured instrumentation.
The Rise (and Fall?) Of R&B/Soul
While R&B/Soul continued to remain behind Pop as the second most popular genre (and for the second quarter in a row), its sustainability seems to be in question.  This is due to the fact that the genre was represented primarily by Q1 carryovers: "All Of Me," "Drunk In Love," "Happy," "The Man," and "Talk Dirty."  Only one song, "Stay With Me," was a new R&B/Soul top 10 arrival.
Since the end of Q2, "Drunk In Love," "Happy," "The Man" and "Talk Dirty" have all dropped out of the top 10.   Additionally, none of the new top 10 arrivals at the time of this writing are R&B/Soul songs.  If this trend continues, R&B/Soul's stature as a primary genre within the top 10 will be greatly diminished by the end of Q3.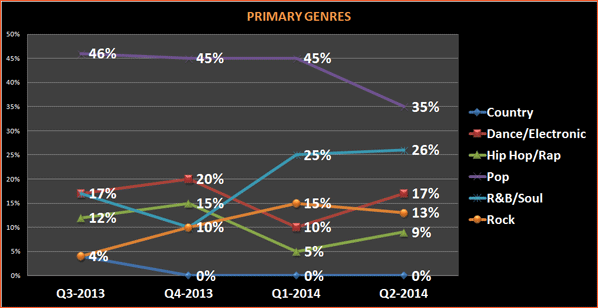 That being said, a closer look shows R&B/Soul elements (i.e. vocals, instrumentation, etc…) influence song structures across all of the primary genre categories; thus, the genre continues to remain as one of the most popular today. During Q2, it showed up as an influence within 70% of all top 10 songs.  It continued to be one of the top two most influential elements found within top 10 hits during the first month of Q3 as well.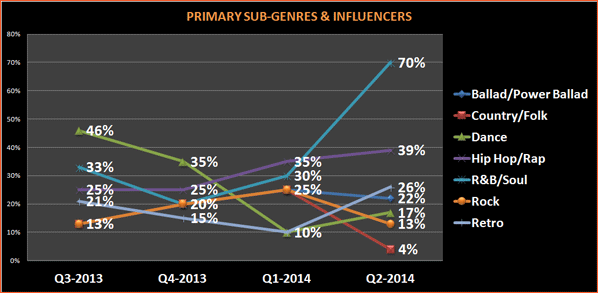 Synth & Bass
The mighty synth, which has played a prominent role in shaping the sound of top 10 hits for years, saw a marked decline in prominence during the last couple of quarters.  Showing up as a key element within 90% of songs back in Q4-2013, by the end of Q2-2014  it was featured prominently in just over half of all songs.
The reason for its decline was due to an increased number of non-synth dominated songs that entered into the top 10, most of which stemmed from the Pop and R&B/Soul genres.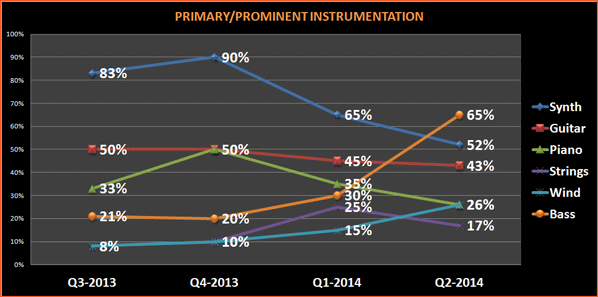 In its place, prominent bass took over as the most influential instrument.  Skyrocketing from just 30% of songs in Q1 up to 65% by the end of Q2, it played a key role in shaping songs that traverse every primary genre category.  Examples include "Summer" (Dance – Retro Funk/R&B bass), "Fancy" (Hip Hop/Rap – Synth Bass), "Dark Horse" (Pop – 808 sub bass), "Drunk In Love" (R&B – 808 sub bass) and "Ain't It Fun" (Rock – Funk bass).
It was most prevalent within songs that featured an R&B, Funk, and/or Trap influence within the mix, all of which are heavily bass driven.
At the time of this writing, the bass is still one of the top featured instruments shaping the sound of top 10 hits.
To check out the full Q2-2014 Hit Songs Deconstructed Trend Report, click here.
BACK TO HSD WIRE