Cutting-Edge Resources for Songwriting, Production and Music Business Programs
Hit Song Compositional Analytics |  Songwriting & Production Techniques | Songwriting Trends
Hit Songs Deconstructed keeps faculty and students in tune with what's driving today's hits at the compositional level and is a powerful tool that works hand-in-hand with the creative process. Our proprietary data and analysis is geared to help both faculty and students stay informed, hone their craft, and make strategic songwriting, production and business decisions armed with hit songwriting analytics.
Hit Songs Deconstructed helps students:
Successfully channel unique creativity into commercially viable songs
Continuously hone their craft by being privy to the latest songwriting and production techniques used to craft today's biggest hits
Learn how to spot and leverage compositional trends to make informed songwriting, production and business decisions
Gain an understanding of how compositional analytics can be used in a variety of roles in the music industry including songwriter, producer, engineer, A&R, creative executive, and more
Learn how to benchmark new songs and artists against those with a proven track record
Faculty will benefit from:
Instant access to the latest songwriting and production techniques and trends driving today's mainstream music scene
Easy access to examples from current hits that compliment topics being covered in the classroom
Reports geared towards teaching the craft and trends behind today's hits
Access to proprietary data not available anywhere else
Ongoing education through the Quarterly Trend Briefs. Faculty members will always be privy to the latest hit songwriting trends as they evolve
Hit Songs Deconstructed does the research for you. It's a huge time saver!
Hit Songs Deconstructed offers unparalleled insight into the craft and trends behind today's chart-topping hits.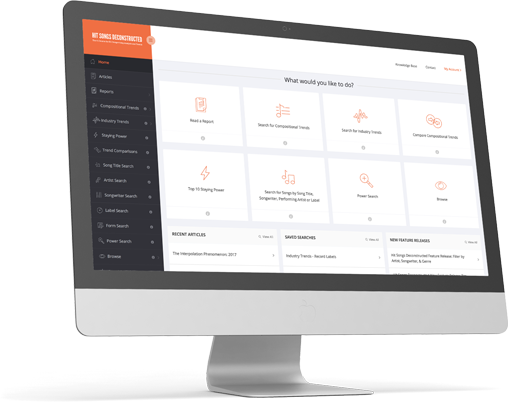 The Hit Songs Deconstructed IMMERSION Database
Updated weekly as songs enter the Billboard Hot 100 Top 10, this robust, fully interactive database houses proprietary data for the compositional characteristics of those songs, as well as related industry data for songwriters, artists, producers and record labels.  
Searches include the ability to search for compositional and industry trends, find songs with very specific compositional characteristics, and compare compositional characteristics across songs, songwriters, artists, producers, and record labels.
Every song in the database includes a dedicated page detailing its key compositional characteristics related to genres and influences, lead vocal, lyrics and song structure, as well as other useful information such chart position, links to lyrics, the official video and more.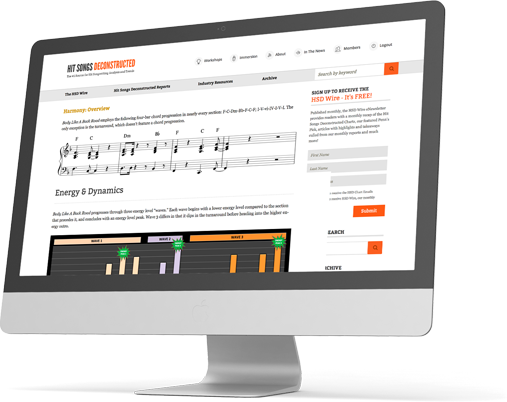 The Hit Song Deconstructed Report
Our flagship report, it provides an unparalleled deep dive into the inner-workings of a current chart-topping hit, and leaves no stone unturned. Presented in a practical manner through a combination of charts, graphs, notation and commentary, the reader comes away with a full understanding of the what, how and why behind how the hit was written and produced and gains a wealth of songwriting and production techniques to add to their toolbox. Among the many areas covered are song structure, energy, genres and influences, instruments and accompaniment, harmony, vocal production and melody, lyrics, rhymes, narrative, Top 10 benchmarking and more. Readers can study the entire report, or hone in on one particular area of interest, such as vocal melody, across multiple reports.  Each report also features a companion downloadable Logic PRO X Project with the correct meter, tempo and song arrangement displayed as empty MIDI regions for each instrument.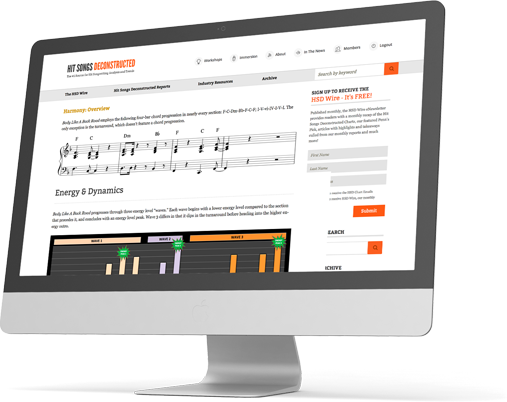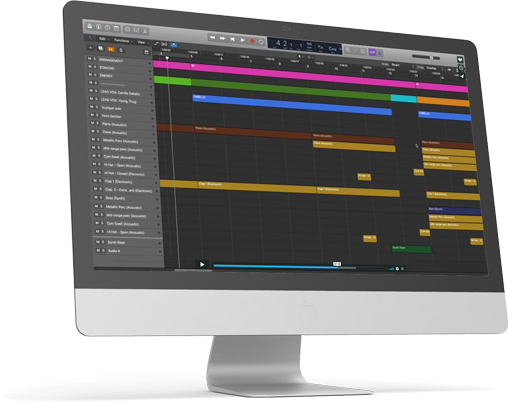 Hit Song Deconstructed Videos
These videos take you on a section-by-section walkthrough – from intro to outro – of the songwriting and production techniques used to craft a chart-topping hit.
Videos are led by Hit Songs Deconstructed co-founder, David Penn, they are approximately one hour long, and each section is visualized with its arrangement in Logic Pro X.
Techniques Archive
This archive features a curated searchable archive of techniques that provides access to the latest techniques being used in today's hits. Whether you want to maximize the impact of a chorus, improve dynamic flow, or gain insight into duet structure options, our technique archive has it all right at your fingertips.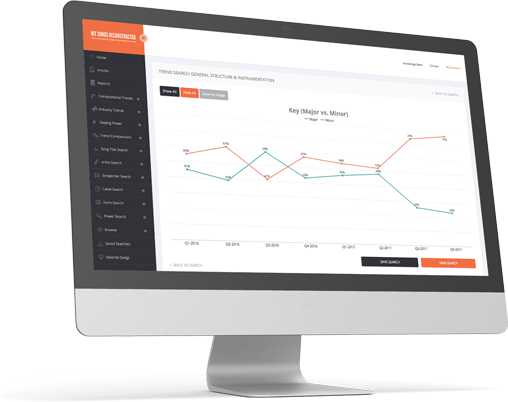 The Quarterly Trend Report
Published on a quarterly basis, this report delivers a concise, data-driven snapshot of Billboard Hot 100 Top 10 compositional and industry trends.
Among the many topics covered are compositional trends such as genres, influences, instruments, tempo, key and song structure characteristics. On the industry side, we cover an array of artist, writer and label trends such as chart performance (staying power, placement, and prominence), single artist vs. featured artists, songwriter/artist collaborations and more.
Berklee Professor Prince Charles Alexander on Hit Songs Deconstructed
In this video, three-time Grammy Award winner and Berklee Professor Prince Charles Alexander explains why Hit Songs Deconstructed is a valuable resource to the Berklee contemporary music program and how it can be used in the classroom.