Hit Songwriting & Producing Is All About 'Chasing Chills': Recapping Parx Studios' Burnout Camp, Pt. 2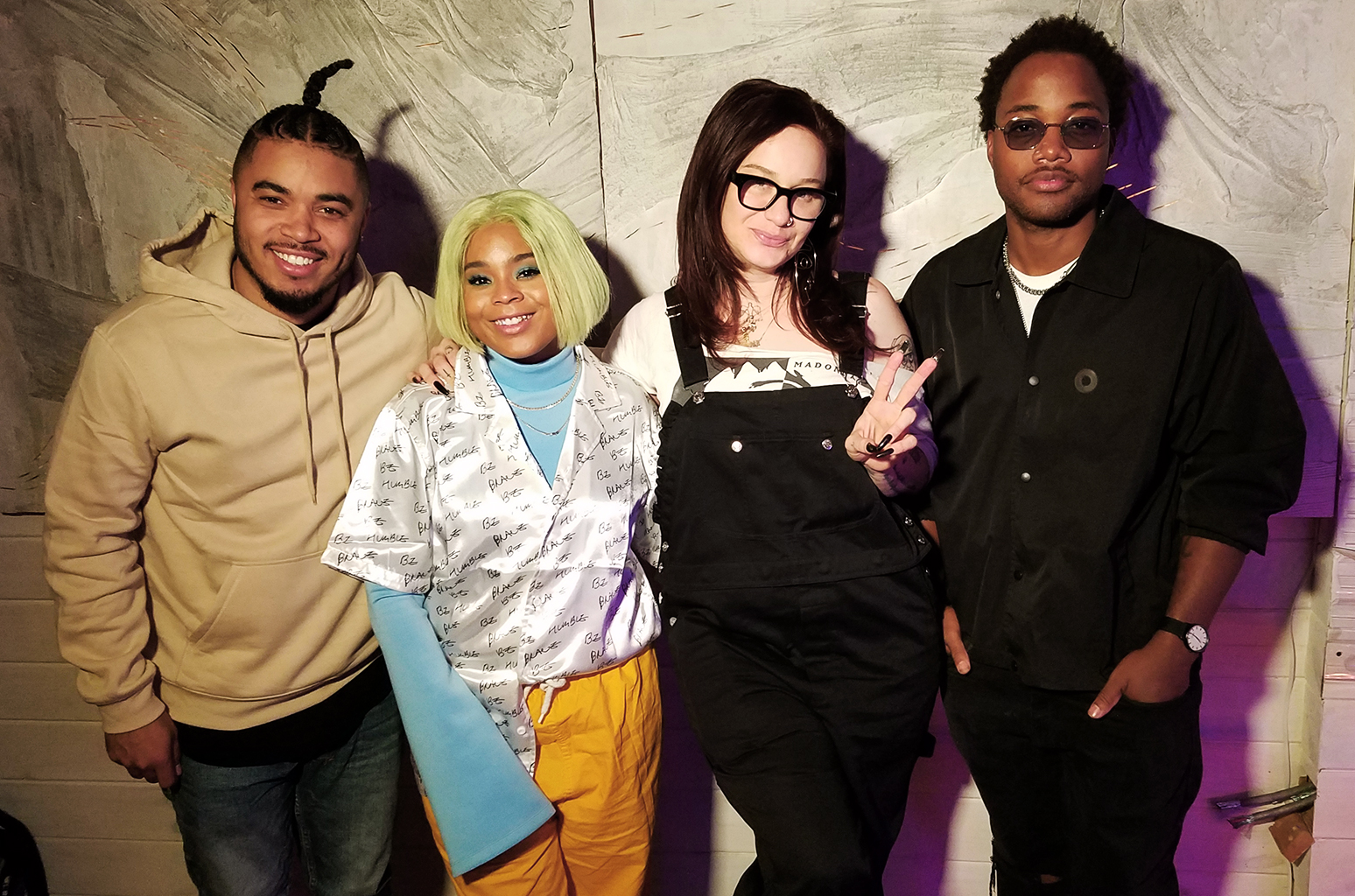 From left: Tommy Brown, Tayla Parx, Sarah Hudson and Leon Thomas, during Parx's Burnout Camp for musical content creators on Oct. 12, 2019 at Grey Noise Studios in New York City.
Hit Songs Deconstructed's co-founders Yael and David Penn joined forces with Gary Trust and Trevor Anderson, co-hosts of the Billboard Chart Beat Podcast, for a two-part roundtable discussion recorded live from Grey Noise Studios during the last day of Tayla Parx's Burnout. 
In Part 1 of this insightful podcast, we discussed the state of today's music industry, the importance of personal wellness, and what inspired the creation of Burnout.
Part 2 of this all-star roundtable with #1 hit songwriters and producers Tommy Brown, Leon Thomas, Jessie Saint John, Sarah Hudson, and Tayla Parx dives into what it takes to craft a hit.

To listen to
this roundtable discussion on
the Billboard Chart Beat Podcast, click here.
On Writing and Producing a Hit
"You have to know when to take that risk. And that comes with becoming a seasoned writer and knowing structure, and understanding that there is a bit of a science to a song. We understand that repetition is good, we understand the things that the human brain understands better… it is a bit of a psychological game as well, and that's something that you learn with collaboration and with other people, and you learn it over time,  because that's the skill that goes into consistently making popular songs or hit songs." – Tayla Parx
"… [the hook] has to be the most memorable part, in a sense that we can go, 'oh hey, I know this part. I wanna sing it again.' By the time you hear it at the end, it's like, you should know the hook already. It all sets each other up, each part of the song. But I feel like verses, bridges and pre's, those are areas you can get a little more creative. And then break it down in the hook of something simple and something memorable and something that just gets the whole point across of the song." – Sarah Hudson
"I think it's great if you can sneak in the same melody a bunch of different times, but every time you hear it, it feels different… and you don't know that you are singing the same melody over and over." – Jesse Saint John
"…we have to think about that too, how are they [the artist] going to engage with their fans?" – Tayla Parx
"I personally feel as a producer, I'm always just in that room listening and trying to find that thing that just gives me, like, just the hair standing up on my arms… Baby Face, I worked with him for years, and he said, 'if I don't have that hands up in the air moment at the hook, we're not doin it!'" – Leon Thomas
"I go and I listen to songs and I deconstruct them myself in different ways… if I go and listen to, let's say the Camila song with Shawn Mendes, I'll count and be like, the same melody repeated 14 times before the second verse.  So what I try to do musically, I'll try and keep the same part repetitive under what they're doing if they're not repeating, and a lot of times people don't catch that because it sits in the background. So I just try to study the music and understand the structure. Something has to repeat because, just like the song has a hook, the beat has to have three parts, the beat has to have a hook, has to have a verse, you know what I'm saying?  So I try to keep something repeating in the music." –Tommy Brown
On Collaborating and Playing to Your Strengths
"There is such an art form to collaboration and I think one of the things, for me, is walking into the room and having no ego… we are there to make the best song and do what's best for the song." – Sarah Hudson
"Everybody has to play their part in the room… play to your strengths… and if you are not that person, bring in that person to be that person with you. Collaborate then." –Tayla Parx
"When you are with a group of writers, you need to know why you are there… I'm here for a reason, because they want my brain, and they're here for a reason because I want what they have." – Jesse Saint John
"I try not to shoot down any ideas because everybody is great at something, so I try to pull what's great from who I'm around, because if his melodies are crazy, or his chords, I'm going to look to him for that. I'm not going to be like, 'no, let me play those chords,' …it's always what's best for the song." –Tommy Brown
"…that's the whole part about managing and balancing ego… do your thing.  Do it and be great at it and swallow your pride a little bit and keep pushing because it's always what's best for the song." – Leon Thomas
"…producers, what they always forget – or beat makers, because they are not the same thing – they do too much on the song and forget that the artist is the star. They want their production to be the star. The production is never the star. Let the artist shine, or the song, or whatever it is…- Tommy Brown
"You have to know your weaknesses – be a good collaborator – 'cause that's the only way you're gonna get the hit song." –Tayla Parx
Why Is this an Important Moment in Popular Music?
"We are in a beautiful time in music, right now in general, like to where you can break the rules. Now, it wasn't this five years ago.  I feel like if she [Billie Eilish] came out at a different time, they [fans] wouldn't have gotten it. This is the perfect time that people want to know more. They've been listening to the same thing for so long, the same artists for so long, they're like, 'I NEED something, something, give me something, anything.' So now is the perfect time for writers to take advantage of the moment in time we are in music, because it only changes every few years and you gotta either be the creator of the way to be a part of that, or you get washed away behind." –Tayla Parx
"Definitely some rules that are very important, we always want to have that format working.  But I think there's definitely room for a lot of rule breakers in this industry right now.  I feel like we are celebrating the weirdos,  we are celebrating shit that feels like, 'Man, I haven't seen that before, I haven't heard that before, what is that, how'd you do that?' If people go, 'how'd you do that?,' I think you're kinda in a good state." – Leon Thomas
"I also think we are in a really cool era where audiences are buying into artists… I feel like a lot more people are kind of like, 'OK, I like this girl, I want to know what she has to say, I'm going to go back and discover her whole catalogue.'" – Jesse Saint John
BACK TO HSD WIRE