Billboard Chart Beat Podcast: The Importance of Self-Care for Songwriters: 'If You're Not Refilling the Well, What Do You Have to Give?' Recapping Parx Studios' Burnout Camp, Pt. 1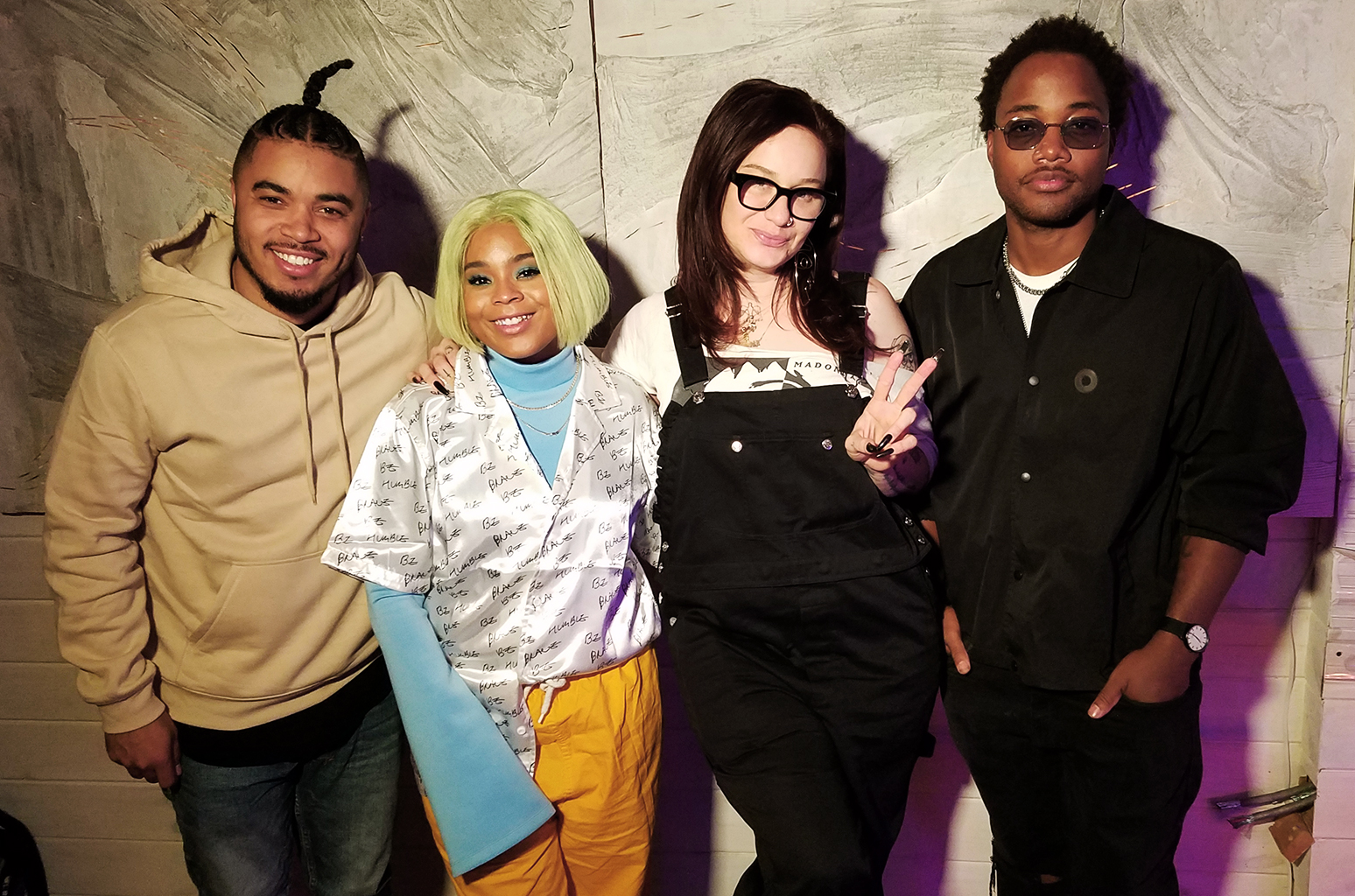 From left: Tommy Brown, Tayla Parx, Sarah Hudson and Leon Thomas, during Parx's Burnout camp for musical content creators on Oct. 12, 2019 at Grey Noise Studios in New York City.
Hit Songs Deconstructed's Yael and David Penn joined forces with Gary Trust and Trevor Anderson, co-hosts of the Billboard Chart Beat Podcast, for a two-part roundtable discussion recorded live from GreyNoise Studios during the last day of Tayla Parx's Burnout.  Burnout is the first creator experience that not only focuses on the creation of great songs but the protection of great songwriters through the addition of self care, mindfulness and Mind/Body/Spirit awareness practices as an integral part of camp.
Joining them for this roundtable discussion were Tayla Parx, who co-wrote Ariana Grande's first two #1 hits, "Thank U, Next" and "7 Rings," Khalid and Normani's "Love Lies" and Panic! at the Disco's "High Hopes," in addition to several other Hot 100 hits by the likes of BTS, Mariah Carey and Fifth Harmony; Tommy Brown, who co-wrote and co-produced Ariana Grande's "Thank U, Next" and "7 Rings" after first hitting the Hot 100 Top 10 with The Black Eyed Peas' 2011 No 3. hit "Just Can't Get Enough"; Sarah Hudson, performing artist and co-writer of Katy Perry's 2014 chart-topper Dark Horse and Iggy Azalea's No. 3 hit Black Widow; Leon Thomas III, a member of the production duo The Rascals, who have produced songs for artists such as Ariana Grande, Ty Dolla Sign, and Post Malone; and Lara Andersson, a Scandinavian writer who has shared the studio with Parx and Justin Tranter, among others.
In Part 1 of this insightful podcast, we dive into the state of today's music industry, the importance of personal wellness, and what inspired the creation of Burnout.
Stay tuned for Part 2, where we dive into the craft of hit songwriting and the techniques today's hit writers and producers use to stay on top.

To listen to
this roundtable discussion on
the Billboard Chart Beat Podcast, click here.
Why Burnout?
"Man, a little bit of everything inspired burnout, from my own personal experiences with literally finding out that my stress and my anxiety… something that I thought just stopped and disappeared after college… was affecting my body physically. And so my own personal experience with that and realizing, 'this is fun for you, right?' and checking in with myself… it wasn't like the creating part [that was so draining], but it was everything else around it and not understanding that I have to refuel… Which is why for Burnout, I was like, let's give people the tools." – Tayla Parx
"Normally labels put on camps or publishers put on camps, which is dope… but we're grinded in those camps. Every morning, like I was saying earlier, it's like, 'Wake up, coffee, write, go to bed, wake up, coffee, write, go to bed," you know? And we burnout. So I think for [Tayla] to step in this position and put on this camp and say, 'I know what it's like to be a creator, and we need to nurture our spirits and our hearts and THEN we can create,' I mean that's… that's what it's about." – Sarah Hudson
On the evolving role of songwriters and producers
"Being an actual, true producer versus like a beat maker, it's a different process. So I take the approach of like the Quincys… Quincy didn't play every instrument or do every drum on the track. You go and you produce the song to give the song the best chance that it has. So I may go get violins from Brooklyn and a drummer from LA, but that's how a lot of times a lot of hands get in the pot when you're looking at it from a producer's standpoint." – Tommy Brown
"I think when the role of the A&R changed, the role of the songwriter changed. I think that you used to have A&R and things like that who actually were in the room, and not just to say they were in the room. It was actually… You're curating the sound, like you're actually in it. I think that role changed, and now the songwriters are damn near A&Rs. Now… the songwriters… and the producers as well, are pulling the best out of these artists. They're doing what some of the best A&Rs that we can go back to… really truly did." – Tayla Parx
On the Business Side of Hit Songwriting
"You can't trust just anybody to run administration. You genuinely have to look over everybody's shoulder and make sure things are being done right, comb through every contract, make sure things are making sense, you know? And that does add a little bit of pressure to the process. But, you know, Tayla I can say has really really stepped up in the world of being not just a great creator, but a really great executive." – Leon Thomas III
"There's like a language barrier… Very much it's two sides: suits and creators. So, what is the way to combine these worlds? …That means we have to have more suits that are actually coming back in the studio, like what happened back in the day, building these relationships with these people that are creating." – Tayla Parx 
On the impact of Burnout Camp
"I think at least once a week, taking a day to just dedicate to me." – Tommy Brown
"Seeing what it was like with this guided meditation, I feel like it would be really awesome to kind of just maybe go out to a park and just really check in with myself and check in with nature… I think that's really to me something that I think I'm gonna work into my personal day." – Leon Thomas III
"Yesterday I worked with a new writer, and I'm always a bit apprehensive at first just cause like, you know you have to open up the whole world… but I loved writing with this writer yesterday… So ya, I think just opening up myself to newer faces, new artists, newer writers… I think that's something I definitely take away from this." – Sarah Hudson
"Tayla pointed out how efficient we've been with our time because we go straight to breakfast to the activities to the sessions. And I think about how much empty time I have on any given day and most people must also  have on their phones or just kind of zoning out… Sometimes that's needed, but if you can take that time and use it for one of the activities we learned, like, that's so much more beneficial." – Lara Andersson
"The fact that you guys were so open to experiencing everything, and the fact that it also affected you in a positive way, that's something that I'm going to remember for the rest of my life. And I'm super happy that you're telling your friends and your producers and stuff about it back at home, because that is really the point of this. So that looking back… 20 years from now, this is the new normal." – Tayla Parx
BACK TO HSD WIRE